今まではConohaを利用していました。
日本にLocationがあると、SSH越しの作業が非常に快適なのですが、回線が100Mbpsと細いのでBackupをどこかに転送する時に時間がかかります。
安いサーバを探していたところ、Contaboを見つけたので契約してみました。どれくらい安いかというとこのような感じです。端的に言うとかなり良いです。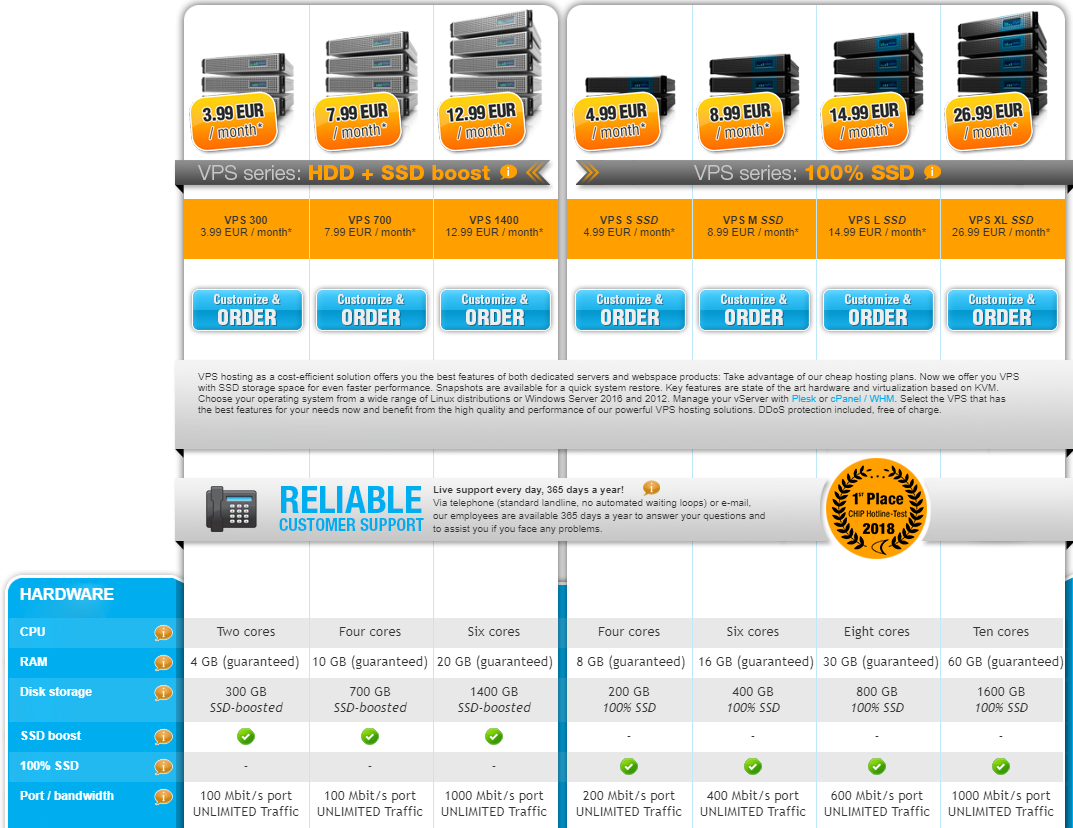 価格をまとめてみました
Priceの円は実際に初期費用を請求された時のレートで算出してキリのの良いところで適当に調整。
セットアップ費用は年払いをすると0円です。月払いにすると4.99€かかります。今回契約したのはVPS L SSDプランの月額払いなので14.99+4.99=19.98€。
Paypal上で為替レート1 JPY = 0.0079 EUR、Paypalの支払いをRakutenカードにしていて実際に請求された額は2505円でした。
支払い手段は「PayPal」や「Skrill」を利用する事ができます。私はPayPalを利用しました。
| Plan | CPU | RAM | Disk | Bandwidth | Price | Price |
| --- | --- | --- | --- | --- | --- | --- |
| VPS 300 | 2 | 4GB | 300GB(HDD+SSD) | 100 Mbps | 3.99€ | 約500円 |
| VPS 700 | 4 | 10GB | 700GB(HDD+SSD) | 100 Mbps | 7.99€ | 約1000円 |
| VPS 1400 | 6 | 20GB | 1400GB(HDD+SSD) | 1000 Mbps | 12.99€ | 約1630円 |
| VPS S SSD | 4 | 8GB | 200GB(SSD) | 200 Mbps | 4.99€ | 約630円 |
| VPS M SSD | 6 | 16GB | 400GB(SSD) | 400 Mbps | 8.99€ | 約1130円 |
| VPS L SSD | 8 | 30GB | 800GB(SSD) | 600 Mbps | 14.99€ | 約1880円 |
| VPS XL SSD | 10 | 60GB | 1600GB(SSD) | 1000 Mbps | 26.99€ | 約3380円 |
このスペックでこの値段はかなり安いと思います。
契約したVPS-L-SSDはCPUとメモリだけで言えば、AWSのm5.2xlargeくらいのスペックでしょうか。Conohaで言うと26000円/月くらいかかるコースです。Diskが800GBもあるのでかなり太っ腹です。
利用できるOSは次の通りです。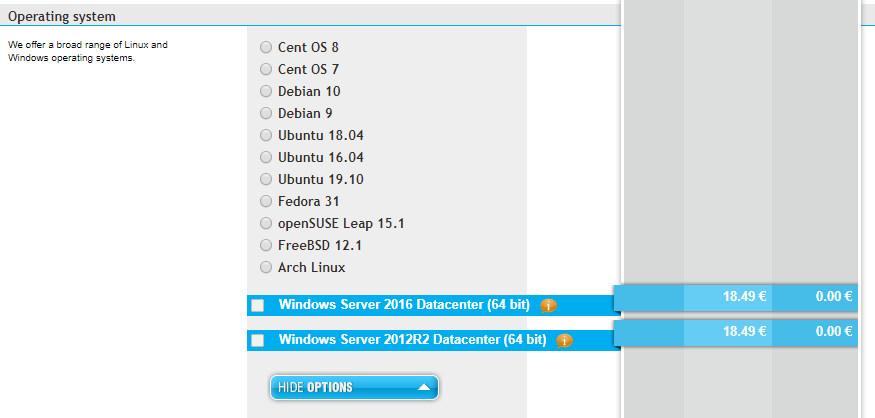 支払い
チャージする形です。
PayPalを利用すれば自動で毎回支払う事ができます。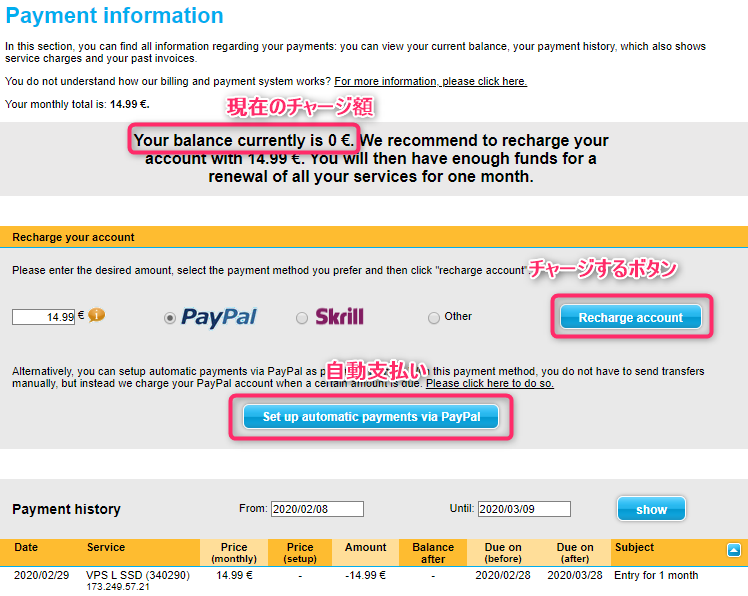 契約すると
モダンではないので、人の手が介在します。
ポチポチしたら直ぐに利用できるわけではありません。利用可能になるまで3日ほどかかります(と書かれていますが、実際は2時間くらいで使えるようになりました)
登録したらメールが来て、必要な情報が揃ってないから作業を進める事ができないよと言われました。
Dear Sir or Madam,

Thank you very much for your order and your payment.

During the order process, you have entered your contact data, such as your address, e-mail address and so on. Unfortunately, we were not able to verify your contact data. Perhaps you have made an error while entering it on our website. Therefore we ask you, to send us your contact data once again.

Step 1 of 2)

To do so, please reply to this e-mail and fill in the form below:

First name:
Last name:
Street:
Street number:
City:
ZIP code:
Country:
Telephone number:

Step 2 of 2)

False or fraudulent orders are commonplace on the Internet. We have to take measures to prevent such false or fraudulent orders. Our system has identified your order as a possible false order. We must now prove your order as a valid order, otherwise we cannot provide you with the services you bought. We need your help with this. Please send us a copy of your passport or national identity card or something similar which corresponds to the data you have provided to us. Alternatively, you can send us your telephone or electricity bill if it contains your address. The address must match the address you provided on our homepage. It is sufficient if you simply take a photo of the document. The only purpose of this is to prove your order as authentic. This is why it does not matter which of the mentioned documents you send us and it does not matter if you make a scan or take a photo. A scammer could not provide any of these documents, this means one document is already enough to prove that your order is authentic and valid.

Please note that we cannot start the setup of your ordered products until you send us a response to this e-mail.

Your cooperation and your efforts are highly appreciated - thank you very much!

If you have any questions or need help, please do not hesitate to contact us.
いやいや、登録フォームに全部書いてあるし、なんだったらPayPalで既に初期費用と最初の1ヶ月支払い済みですけどー?と思ったけど、その5分後に次のメールが来ました。
Dear xxxxxxxx

We have performed a further more detailed analysis of the situation and we would like to inform you that we do not require further details from you. Thus, no action from your end is required. We are sorry for the inconvenience.

We will now start the setup of your ordered VPS. Usually the setup will be finished within the next 24 hours. As soon as everything has been done from our side we will get back to you and provide you with your login details.

Your patience is highly appreciated for the time being.

We do wish you much success with our products.
さらにその30分後くらいにアカウント情報がメールで届きました。はやかった。
最初の設定
今時のサービスでは管理画面でポチポチして、鍵を登録して仮想マシンを起動しますが、そんなモダンではありません。登録時にメールで次の情報が届きます。
Webコンソールの情報

Consoleのアドレス
UserName
Password

VPSの情報

IP Address (v4 + v6)
VNCの情報

IP Address
Port
Password
User (root)
Password (VNCのパスワードとLinuxのrootパスワードは同じ)
パスワードが生で書かれているぜっ・・!
Webコンソールで出来ることは、再起動やSnapshotを取ることくらいしか出来ません。あと、DNSの逆引き設定が出来るくらいです。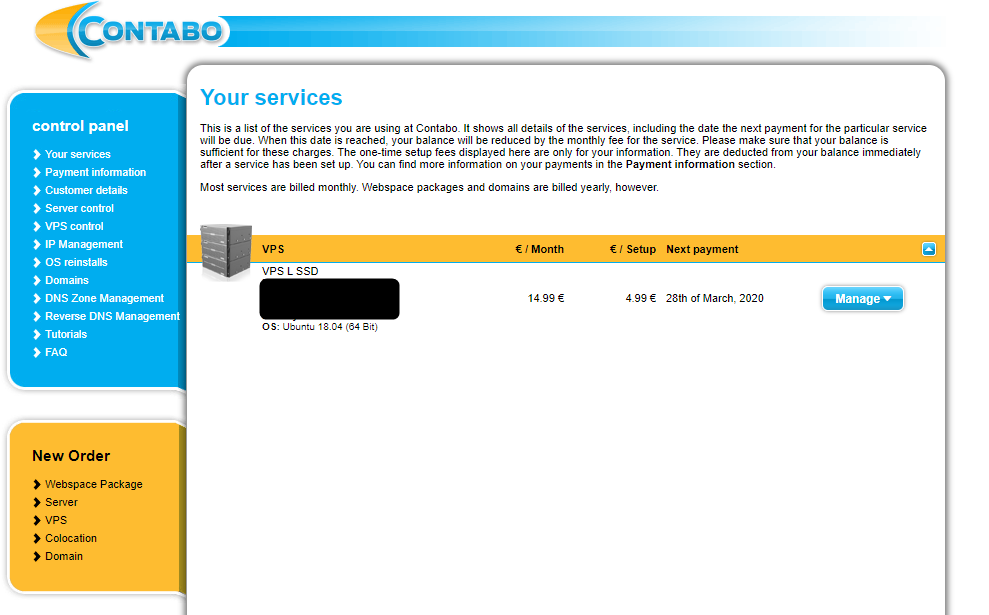 VNCで接続してLinuxにログインできる事を確認。
sshdの設定で、鍵認証+パスワード認証をOFF、rootのssh禁止、listen portの変更を。ユーザーまわりはrootのパスワード変更、作業用ユーザーの追加とsudo設定あたりをささっとやってしまいます。
あと、TimeZoneがドイツになっているのでUTCに変更します。
実際のスペック情報
ドイツにあるので、通信遅延が大きいためSSHが快適ではありません。moshを使うことをオススメします。
ping
64 bytes from xxx.xxx.xxx.xxx: icmp_seq=1 ttl=51 time=249 ms




64 bytes from xxx.xxx.xxx.xxx: icmp_seq=2 ttl=51 time=247 ms




64 bytes from xxx.xxx.xxx.xxx: icmp_seq=3 ttl=51 time=244 ms




64 bytes from xxx.xxx.xxx.xxx: icmp_seq=4 ttl=51 time=244 ms




64 bytes from xxx.xxx.xxx.xxx: icmp_seq=5 ttl=51 time=243 ms



cpuinfo
processor       : 7




vendor_id       : GenuineIntel




cpu family      : 6




model           : 79




model name      : Intel(R) Xeon(R) CPU E5-2630 v4 @ 2.20GHz




stepping        : 1




microcode       : 0x1




cpu MHz         : 2199.996




cache size      : 16384 KB




physical id     : 0




siblings        : 8




core id         : 7




cpu cores       : 8




apicid          : 7




initial apicid  : 7




fpu             : yes




fpu_exception   : yes




cpuid level     : 20




wp              : yes




flags           : fpu vme de pse tsc msr pae mce cx8 apic sep mtrr pge mca cmov pat pse36 clflush mmx fxsr sse sse2 ss ht syscall nx pdpe1gb rdtscp lm constant_tsc arch_perfmon rep_good nopl xtopology cpuid tsc_known_freq pni pclmulqdq ssse3 fma cx16 pcid sse4_1 sse4_2 x2apic movbe popcnt tsc_deadline_timer aes xsave avx f16c rdrand hypervisor lahf_lm abm 3dnowprefetch cpuid_fault invpcid_single pti ssbd ibrs ibpb stibp fsgsbase tsc_adjust bmi1 hle avx2 smep bmi2 erms invpcid rtm rdseed adx smap xsaveopt arat umip md_clear arch_capabilities




bugs            : cpu_meltdown spectre_v1 spectre_v2 spec_store_bypass l1tf mds swapgs taa itlb_multihit




bogomips        : 4399.99




clflush size    : 64




cache_alignment : 64




address sizes   : 40 bits physical, 48 bits virtual




power management:



"free -m"
              total        used        free      shared  buff/cache   available




Mem:          30151         761       28974           3         415       29035




Swap:          2047           0        2047



個人的には、OSとデータの領域は分離してIOがさちった時にOS巻き込んで遅くなるのを防ぎたい派なのですが、これはまぁ仕方ないです。
"df -h"
Filesystem      Size  Used Avail Use% Mounted on




udev             15G     0   15G   0% /dev




tmpfs           3.0G  4.0M  3.0G   1% /run




/dev/sda2       786G   22G  725G   3% /




tmpfs            15G  4.0K   15G   1% /dev/shm




tmpfs           5.0M     0  5.0M   0% /run/lock




tmpfs            15G     0   15G   0% /sys/fs/cgroup




/dev/sda1       922M   60M  800M   7% /boot




tmpfs           3.0G     0  3.0G   0% /run/user/1000



Disk性能をfioで計測
fio -v 




fio-3.1





fio -filename=/root/work/test2g -direct=1 -rw=randrw -bs=4k -size=2G -numjobs=10 -iodepth=1 -runtime=20 -invalidate=1 -name=file1 -ioengine=libaio 



Run status group 0 (all jobs):




   READ: bw=5921KiB/s (6063kB/s), 566KiB/s-612KiB/s (579kB/s-627kB/s), io=116MiB (121MB), run=20001-20010msec




  WRITE: bw=5988KiB/s (6132kB/s), 589KiB/s-610KiB/s (604kB/s-625kB/s), io=117MiB (123MB), run=20001-20010msec





Disk stats (read/write):




  sda: ios=28449/29888, merge=0/13, ticks=10400/183500, in_queue=175836, util=99.11%



IOPSがかなり高い..!
実際に使ってみて
1ヶ月ほど利用していますが、ssh越しに作業をしなければかなり快適です。
開発サーバとして利用する場合や実験をする場合は、何かとsshで作業をする事が多いですが、運用するサーバとして使う場合は困った事がありませんでした。もちろん、DatabaseをCLIでクエリ流しまくる場合は(テキスト入力の遅延で)ストレスですが、そこはまぁトンネル掘ってGUIツールでアクセスすれば気にならないです。
大変満足しています。
ただし、複数台構成を考えているのであれば、オススメはしません。
今や多くのVPSでサポートされているLoad Balancerもなければprivate IPもありません。Object Storageのような便利なものもありません。AWSでいうところのセキュリティグループもないため、OS側できちんと守ってあげる必要があります。本当にClassicなVPSです。
安く仕上げたいがモダンなものは最低限欲しければ、VultrやDigital Oceanを使うのが良いですし、仕事で使うなら当然ながらAWSやGCPを使うのが良いです。
日本向けのWebサイトとして利用する場合は、前段にCDNを入れた方が良いです。
なお、契約してから1回だけメンテナンスがあり、サーバが再起動されました。メンテナンスがどの程度発生するのかはまだ分かっていません。
Dear xxxxxxxx,

With this e-mail, we would like to inform you that there is an immediate need for a short maintenance for your VPS L SSD (IP address xxx.xxx.xxx.xxx). Our technicians will do everything in their power to finish all tasks as quickly as possible. Unfortunately, there was no way to announce this maintenance earlier, which is why we apologize for any inconvenience.

The maintenance will take place on Wednesday, 5th February at 08:00 UTC+1.

The offtime is expected to last no longer than 45 minutes.

By the way, in the menu item "VPS control" of your Contabo customer control panel at https://my.contabo.com/vservers you can see the current status of maintenance with the help of the coloured warning triangles. Should there be displayed a green warning triangle, but you can see a black monitor under "Status" (Mouseover: Stopped), please click the button "Restart" once and wait a reasonable time. After the restart your VPS should be available soon.

Best regards,

Contabo Support Department